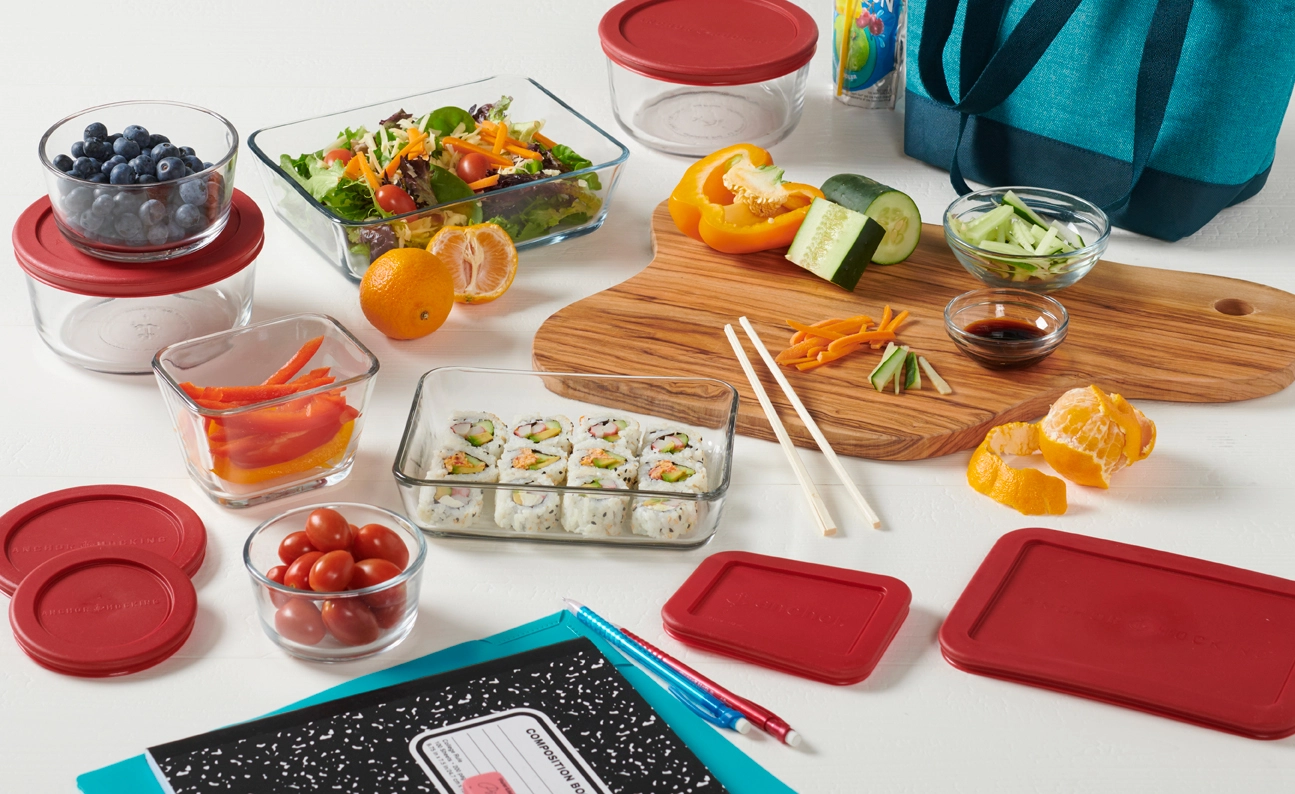 Tired of the standard lunch sandwich? Are you ready to upgrade your back-to-school game? Anchor Hocking's versatile food storage containers—Snugfit®, TrueSeal®, and TrueLock™—have got you covered. We put together three creative, fun lunch ideas that will appeal to any kid returning to school or adult heading back to the office.
Mini Sushi Rolls – Snugfit®
Say hello to a healthy, fun finger-food option you can prep in minutes and kids will adore. Simply lay a sheet of nori seaweed on a clean surface, spread sushi rice evenly, add thinly sliced veggies like carrots, cucumbers, and avocado, and carefully roll it into a tight cylinder. Slice the roll into bite-sized pieces and pack them along with a small container of soy sauce for dipping. The Snugfit® rectangle is similar in shape and size to a Japanese bento box and perfect for transporting this type of low-stakes, liquid-free meal. The Anchor Hocking SnugFit® 16 Piece Glass Food Storage Set is perfect for lunches and leftovers.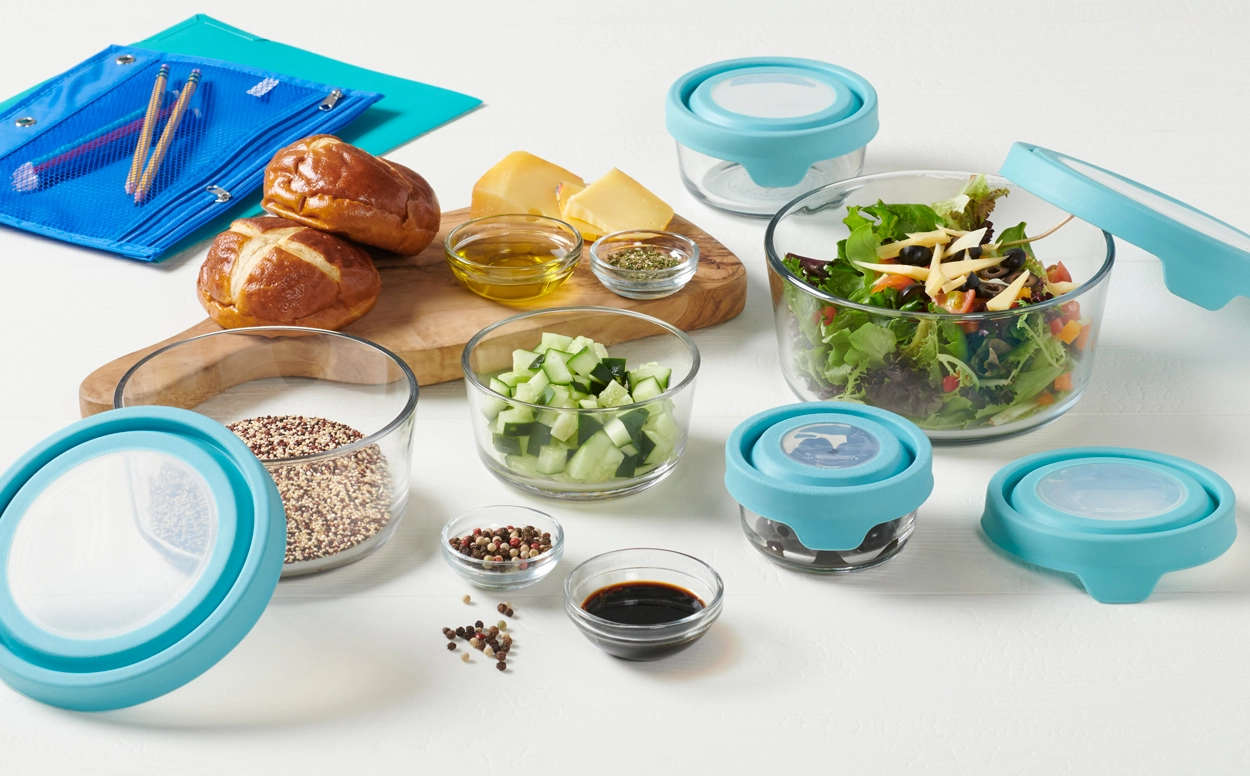 Quinoa and Chickpea Greek Salad – TrueSeal®
Anchor Hocking's TrueSeal® food storage containers are here to keep your ingredients fresh and dressing securely sealed. A Quinoa and Chickpea Greek Salad is delicious and takes only minutes to prepare. Start by combining cooked quinoa, chickpeas, diced cucumber, halved cherry tomatoes, chopped red onion, sliced Kalamata olives, and crumbled feta cheese in the glass container. In a separate small dish (something like our Prep Bowls are perfect), mix olive oil, lemon juice, red wine vinegar, dried oregano, salt, and pepper. Pour the dressing over top. Press the lid tightly closed. Give it a gentle shake. And voila! A satisfying, nutritious Greek-inspired lunch in a durable container that won't spill dressing on a seat or in a backpack. Try the Anchor Hocking TrueSeal® set with green lids for fresh start to the school year.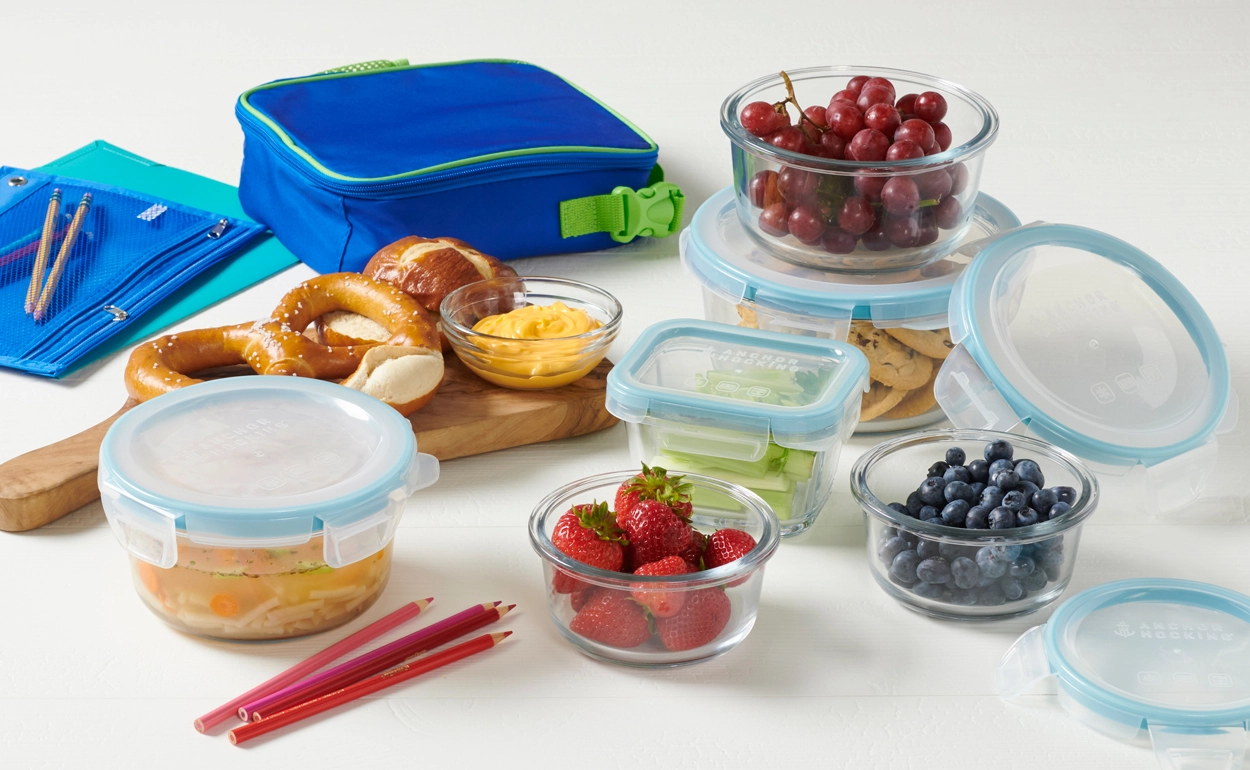 Hearty Vegetable Soup – TrueLock™
Those chilly fall days are around the corner, and that means soup. Our spill-proof TrueLock™ food storage containers are your best bet to ensure you can carry your favorite liquids worry free. A delicious Hearty Vegetable Soup can be made from a simple medley of mixed vegetables, finely chopped onion and garlic, canned diced tomatoes, and flavorful broth. Let the soup simmer until the veggies are tender and season it with your favorite fresh herbs. Once the soup has cooled slightly, transfer it to the TrueLock™ container. Clasp the lid closed and you're all set to transport a spill-proof, heartwarming lunch. When you're ready to be cozy and satisfied, Glass is microwave safe for easy reheating (and dishwasher safe for easy cleaning!).
From sushi rolls to Greek salads to hearty soups and much, much more, it's time to mix up your lunches. No matter the temperature, texture, or consistency of your latest creation, our Food Storage Containers are microwave, dishwasher, fridge/freezer and oven safe so you can transport and enjoy any lunch. Bakeware dishes for meal prep and pantry containers to store all your ingredients will also be a necessity to start the year off right! Take a look at these sets to get started: 3 Piece SecureLock Revolution Jar Set and Oven Basics Glass Baking Dishes