We have containers for every essential in your house! From bread flour to cotton balls, Anchor Hocking has a collection to fit your style. For classic looks we have the Goode Sundry Collection, Penny Candy, Barrel Jars, Cracker Jars, and the Heritage Hill Collection. For modern looks choose from Gripper Jars, SecureLock Revolution Jars, Montana Jars, and Square stackable jars.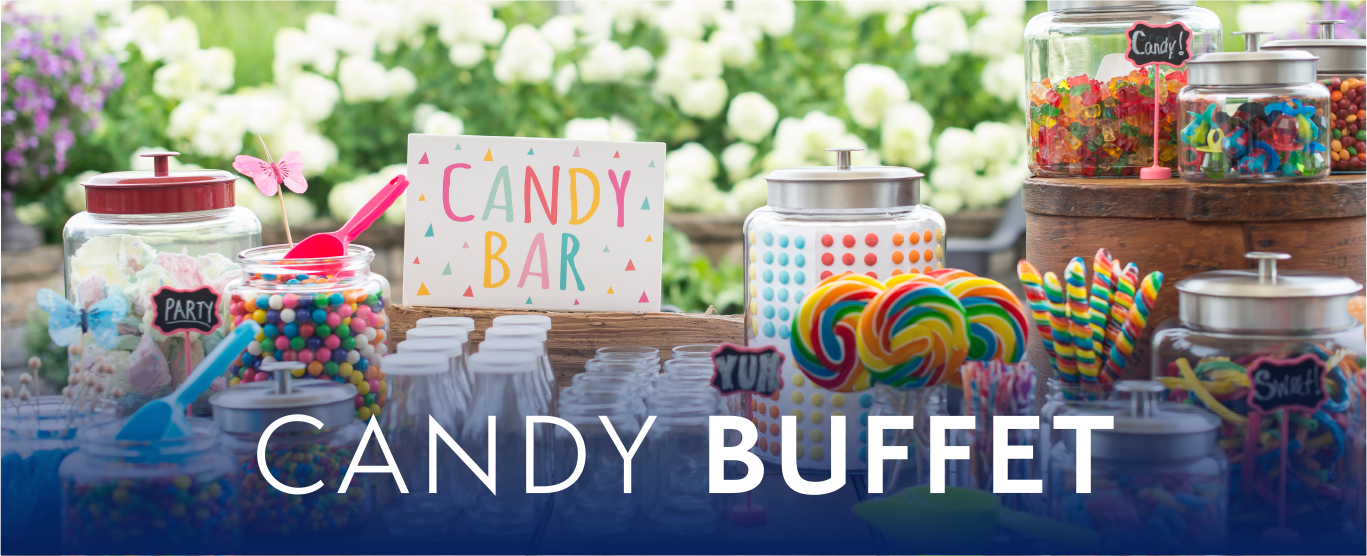 It doesn't matter if it's a wedding, baby shower, or an eight-year old's birthday party—There's always a good reason to set up a Candy Buffet! It is a colorful focal point for any celebration while providing a delectable take home treat. You simply need multiple bulk candies and a variety of jar sizes. Here are some ideas for stocking your buffet:
Choose the right jars. You want jars that:
• You can easily see the candy
• Come in multiple sizes for visual interest
• Have a wide opening for tongs or scoops
• Have durable, lightweight lids with a good seal
Hand helds
Small cracker jars work great for tall grab-and-go items like sugar straws and lollipops. Choose swirled lollipops in multiple sizes and shapes. Add colorful tissue paper to the bottom of the jar and along the sides to create a snug space in the center. Arrange the lollipops with their sticks tucked into the jar like a bouquet.
Chewy treats
Farmhouse Montana jars have nice big openings and tight-fitting lids perfect for gummy treats and licorice. Use a variety of jar sizes to create visual interest. Keeping the lids on will help prevent your gummies from getting stickier in any climate. A set of tongs is perfect for dishing out these candies and can rest easily on the handle of the Montana Jar.
Pourables
Milk Bottle Jars are cute, easy-to-hold jars that can be filled with small gumballs or candy-coated chocolates. Guests can easy pour them directly into their treat bags without the need for a scoop.
Nostalgic Candy
Bring back happy childhood memories by including some nostalgic sweets! The Penny Candy Jar with lid has a great throwback style. It's perfect for old school wrapped taffy and caramels. For large items like button candy, which come on the iconic rolls of paper, use large Farmhouse Montana jars filled with pre-ripped sections.