Our glass bakeware is dependable, durable, and versatile
Made from soda-lime silicate glass (a modern improvement over borosilicate glass bakeware), our glass bakeware is:
DEPENDABLE
Bakes evenly, retains heat so it keeps food warmer, longer & cleans easily
DURABLE
Glass will not warp or stain
VERSATILE
Bake, Serve & Store; Clear glass allows you to see what is baking

TEMPERED TOUGH® GLASS
"Tempered-Tough" is a process in which glassware is subjected to sustained heating followed by rapid cooling to enhance strength and increase durability. It reinforces the soda-lime silicate glass, further supporting it relative to borosilicate glass bakeware.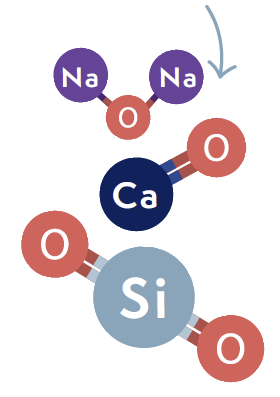 TEMPERED SODA-LIME SILICATE BAKEWARE IS SAFER 
Anchor Hocking has been manufacturing tempered soda-lime-silicate bakeware for nearly 40 years. Prior to that time, annealed borosilicate glass bakeware was the standard.
100% recyclable tempered soda-lime silicate (70 SiO2 CaO, 15 Na2O) is stronger and more durable, and breaks into relatively small pieces (some may be larger), generally lacking sharp edges and shards when it does break. Anchor Hocking's thermally-strengthened soda-lime-silicate glass bakeware is fully suitable and safe for oven use. It is thermally treated or tempered to more than double the mechanical strength of annealed borosilicate.
Anchor Hocking's tempered soda-lime-silicate has equal to or greater thermal shock resistance than annealed borosilicate glass. Tempered soda-lime-silicate has resulted in significantly fewer failures and, most importantly, fewer severe injuries than annealed borosilicate over decades of use. Indeed, reports of glass bakeware breakage filed with the CPSC markedly declined after the change from borosilicate glass to tempered soda-lime-silicate glass.
Annealed borosilicate glass bakeware is substantially weaker against mechanical breakage caused by dropping, striking against hard objects, and use of sharp utensils. Further, when borosilicate glass breaks, it breaks into larger, heavier pieces of very sharp glass creating a significant risk of severe cuts, punctures, etc. Significantly, Anchor Hocking experienced a greater than 90% reduction in its replacement rate due to breakage during the first 10 years of tempered soda-lime-silicate production.
GLASS > METAL
In addition to the superiority of soda-lime silicate glass bakeware over borosilicate glass bakeware, it also has advantages relative to metal bakeware. Specifically, the glass allows it to retain moisture better for improved baking results. It bakes more evenly, and also allows you to see the baking process clearly rather than just sticking a fork in it!