From meal prep to leftovers Anchor Hocking has the storage containers to get it all put away right. Our TrueSeal®, TrueLock Locking Lid™, and SnugFit™ containers make it simple to go straight from cooking to storage saving time and clean up.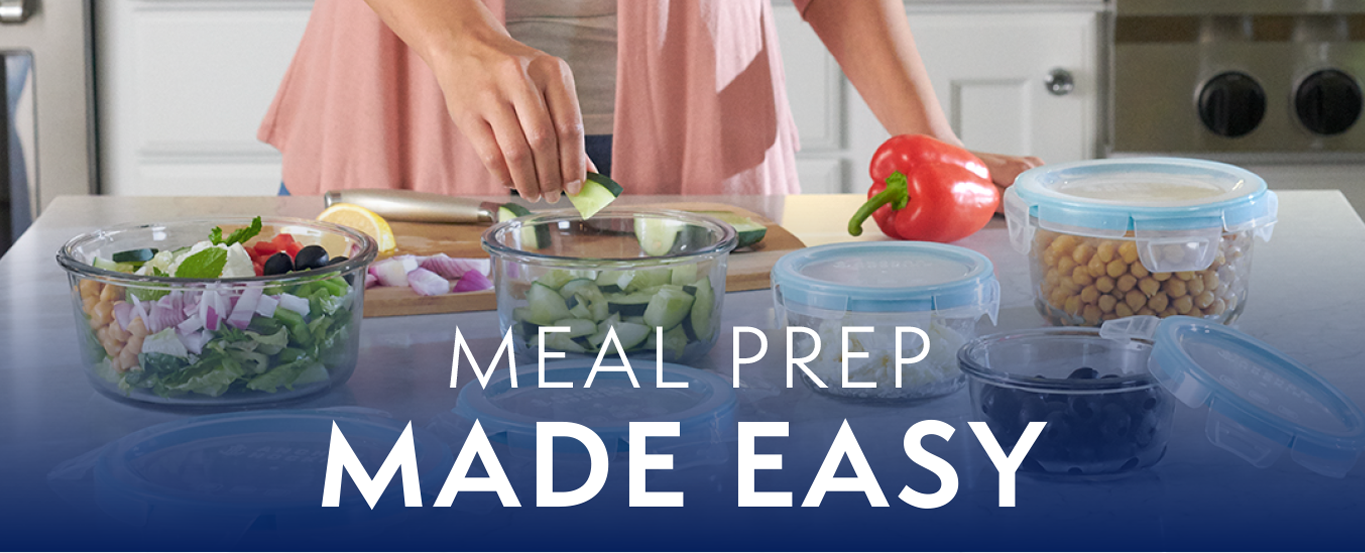 Glass food storage containers are a versatile option for meal prep. Here are some tips to keep those containers in tip-top shape for years to come.
Start Simple
Think snack charcuterie—no cooking skills needed! Start with a handful of nuts, then add some fruit, cheese, and crackers to make an easy grab-and-go meal. To keep it healthy, include veggies and mixed berries, which hold up well in the refrigerator.  Add a pop of protein with deli meat, marinated tofu, or hard-boiled eggs. Finish it off with a sweet treat like yogurt covered pretzels. Store in the fridge using stackable glass containers. You'll have easy, healthy snacks, sure to please even the pickiest peeps in your home. 
From Store to Storage
Prep your veggies right from the store! Instead of banishing veggies away to the bottom of the fridge drawer, get them ready to use! Vegetables like bell peppers, broccoli, carrots, cauliflower, and celery can be washed and cut into pieces. Store them in a glass container and use within 4-5 days. This prep makes cooking meals much faster. Plus, it encourages healthy snacking!
Double Up and Prep
Double your dinner recipe! While you cook your weeknight meal, cook extra portions of your protein and roasted vegetables. Throughout the week, use those extra portions to make simple meals. Here are some ideas:
Salads – Add dressing on bottom, then add proteins with greens on top to keep crisp.
Grain Bowls – Layering proteins and veggies on grains such as quinoa or brown rice.
Kabobs – Simply cube and skewer proteins with roasted veggies and serve with a container of dip.
Prepping alongside weeknight meals saves on cooking time and clean up! Store meals in stackable glass containers and refrigerate.
Pack it Right for Prep
Using the right container to maximize freshness is key to meal prep! Glass containers are one of the best meal prep options. Glass is the most versatile when it comes to refrigerating and reheating. A glass container with a tight-fitting lid will keep your food tasting fresher, longer.