Solid well-made tools make baking and cooking easier. Anchor Hocking has your go-to kitchen accessories. Our measuring cups, measuring glasses, and batter bowls are designed to be durable and easy-to-use. Our prep bowls and mixing bowls bring a simplicity to organizing and executing any recipe.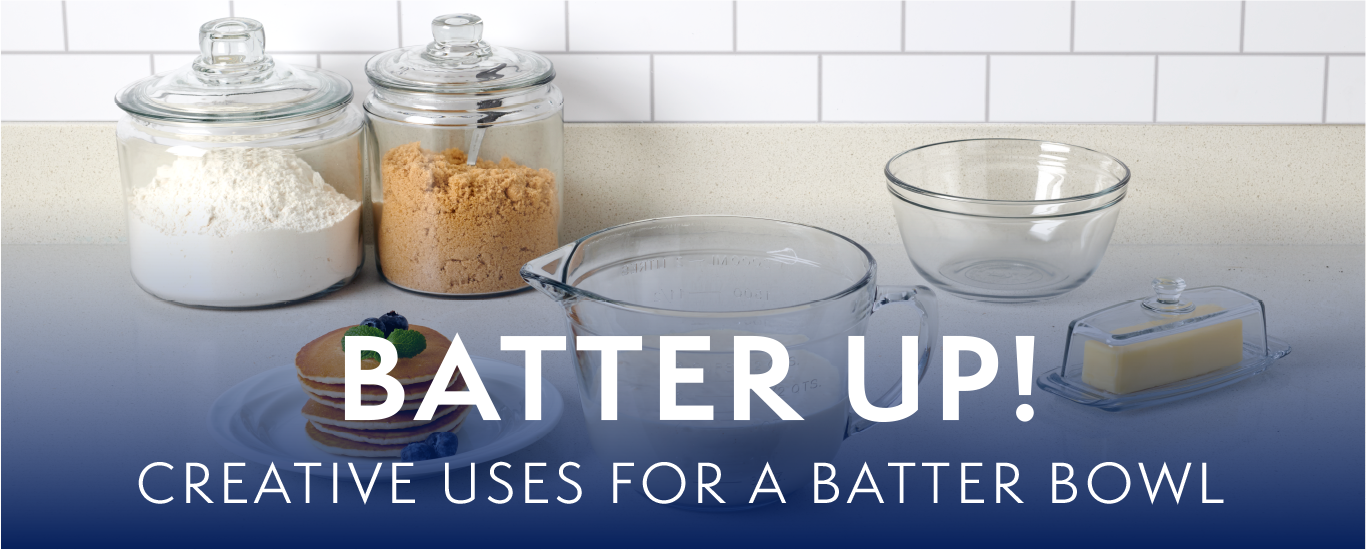 What is a batter bowl? Is it a measuring bowl? A mixing bowl? The truth is, it's all of these and so much more. The Anchor Hocking Batter Bowl has a tight-fitting lid that keeps batter fresh and easy to store. Use your batter bowl for more than cakes. Try these creative uses:
Proof
You've mixed your dough and now you are ready to proof! Grab a large clean batter bowl for round two! A glass bowl with a tight-fitting lid is a perfect choice for proofing dough. First run warm water in the empty glass bowl. This will create a warm environment to get the proofing processes started. After it's been dried, grease or spray the bowl and lid to prevent sticking. Place the dough ball into the center of the bowl and seal tightly with the lid. Check back in a bit. Using glass makes it easy to see when your dough has doubled.
Marinade
Use a glass batter bowl for marinades. This allows you to go straight from measuring and mixing, to marinating in one container. Glass is nonreactive, which makes it the better choice when it comes to acidic marinades. Simply mix your marinade liquid and add your proteins and vegetables. Seal with the lid and pop in the refrigerator for less mess marinating.
Pour
The pour spout makes batter bowls perfect for prepping muffins and cupcakes. The measurements on the side make it easy to get your ingredients mixed with minimal dishes to clean. The pour spout makes it convenient to get your batter straight into the tins without extra utensils!