Kitchen Storage Containers & Counter Top Storage
Montana®  Jars are the perfect option for counter top storage. Three gasketed lid designs allow you to selcect a style best fit for your space. The wood flat-lid design makes these jars great as large capacity kitchen storage containers, whild the black and brushed nickel looks with handles and the wide mouth opening make the cookies easy to grab.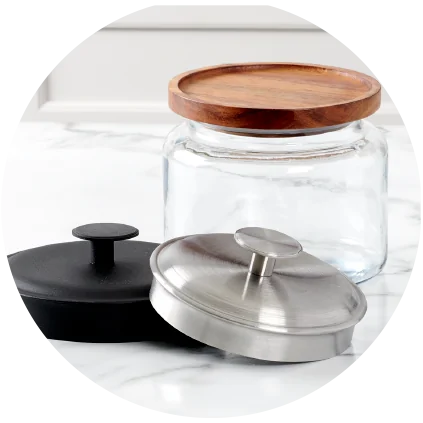 3 different lid finishes with Gasket
Montana® Counter Top Storage & Kitchen Storage Containers
These diswasher safe glass jars with multiple lid options work perfectly in the pantry as kitchen storage containers or out in the open as counter top storage. They're available in multiple sizea: 48 ounces, 64 ounces, 96 ounces, 1.5 gallons, 2 gallons, and 2.5 gallons.