Whether you're soon to host Thanksgiving or simply love a pie sizzling in the oven. Whether it's apples, cherries, custard, pumpkin, or chocolate going inside – the right pie dish is what determines whether what you bake is cooked to perfection or not, an uneven mess or a cooked through delight. From materials to sizes, here's everything you need to know to choose the perfect pie plate for any occasion.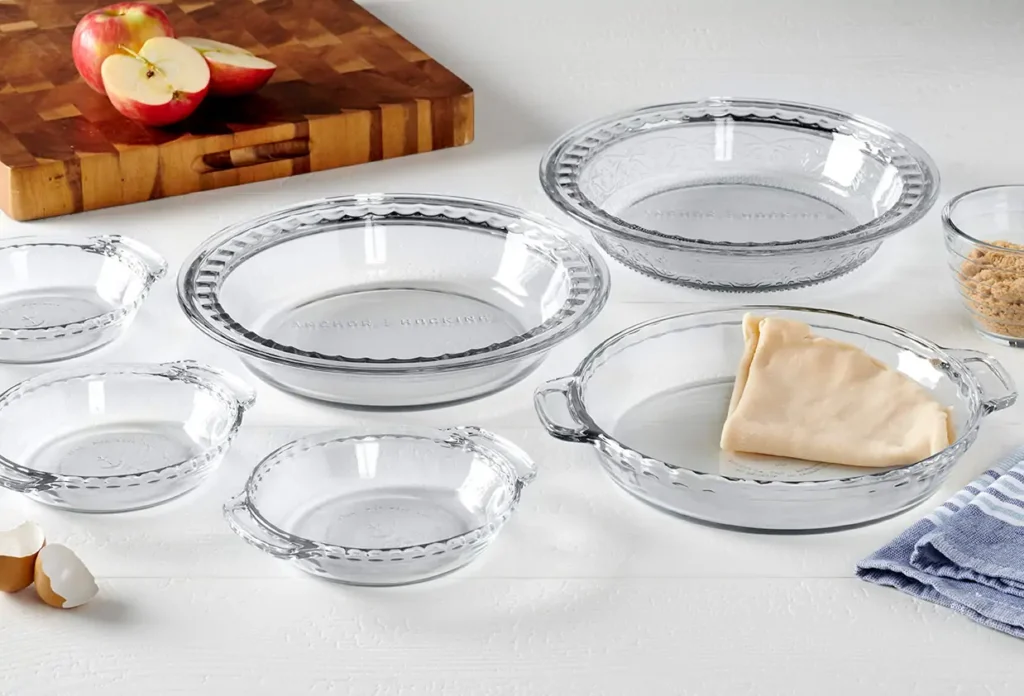 MATERIAL
The first choice that will make or break your pie is the material of your baking dish. Here are the highlights:
Ceramic and stoneware: these heavy materials conduct heat less slowly. This means they maximize moisture retention. For some baking needs this is ideal. For others, like pies, they tend to result in soggy bottoms and damp crusts.
Tempered glass: by contrast, tempered glass conducts heat more quickly. Butter melts, steam releases, and heat distributes. The result is that golden, flaky crust you're looking for.
Material is also what guests notice when served. If you're looking for something as reliable in the oven as it is on the table, check out Anchor Hocking's Laurel Embossed 9.5-inch pie plate, whose fine floral pattern adds an elegant touch to any holiday meal. For something more understated, the Oven Basics 9.5-inch Deep Pie Plate has a subtle frill around the rim and exaggerated handles that, even when hot, make it easy to grip, transport, and serve.
WIDTH
Pie pans range from 8-12 inches in width. However, 11 inches and larger tend to upset the balance between crust and filling so that pies come out over-filled and undercooked. A standard recipe, without having to adjust sizes or baking time, is usually calibrated for a 9.5″ pan. Two great options are Anchor Hocking's Premium 9.5 in. Pie Dish – a top of the line tempered product with a ruffled rim to exaggerate the crust and look beautiful on the table. For something more streamlined, our Essentials 9-inch Pie Dish is everything you need without any additional frills.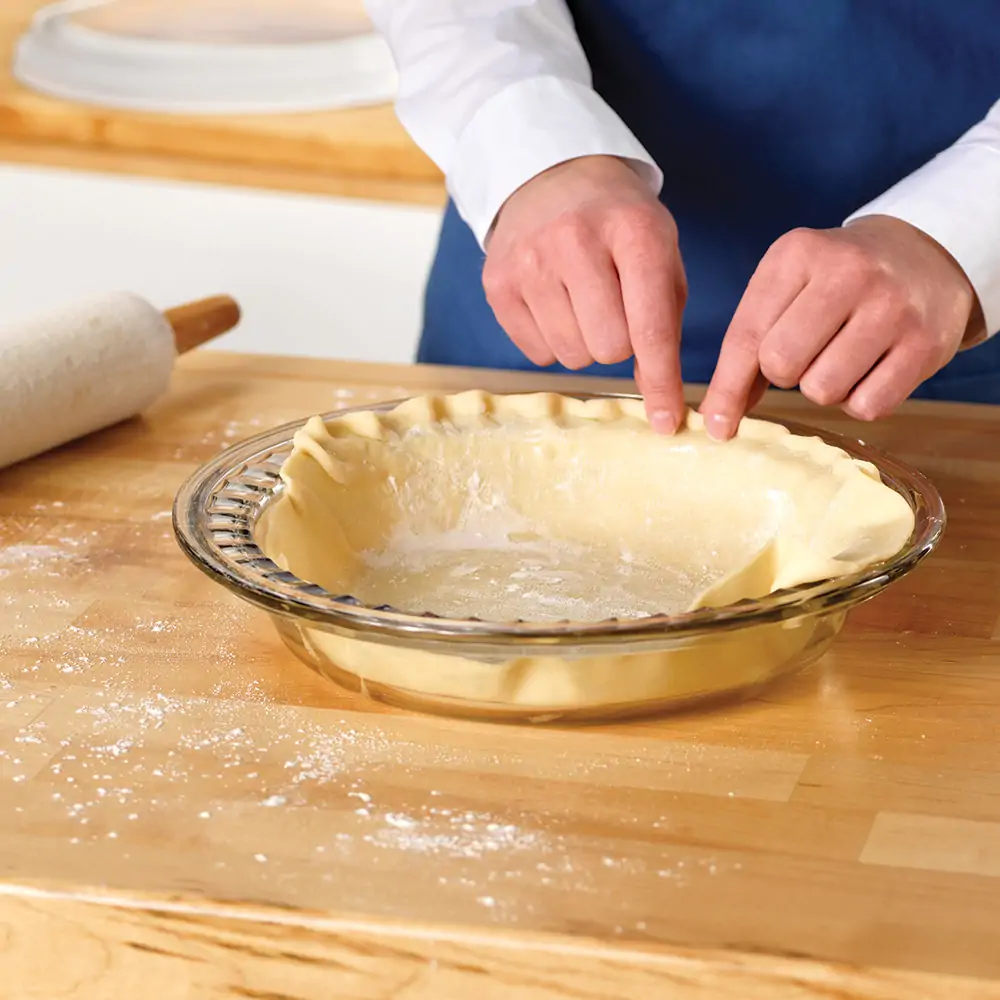 DEPTH
Most pie dishes are 1 to 1.25 inches deep. However, some dishes are 1.5 to even 2 inches deep. This might not sound like a lot, but it can make a huge difference. Since heat rises, more depth requires a longer cooking time.
You want depth when you're baking a pie with a lot of crust and filling. At 1.75-inches deep, Anchor Hocking's Fireking 9.5 inch Pie Plate is exactly what you're looking for if you enjoy pies with thick fruity slices in every bite: ideal for apple, cherry, peach, rhubarb, blueberry, and others.
By contrast, shallow dishes cause hot air to circulate more freely, browning the pies more quickly. Anchor Hockings 9.5-inch Oven Basics plate is ideal for pies that don't have tons of liquid and thus don't require as much depth. At 1.25 inches, it will bake the perfect custard pie and cookie crust.
MINI PIE DISH
Mini pie pans are great because, at 6 inches, you can experiment with different textures, flavors, and varieties with less at stake. From flaky to savory to fruity, you can serve apple or chicken pot pie in small, individualized sizes so every guest gets to sample more of what they love. The Oven Basics Mini Pie Plates are perfect for this type of experimentation and personalization.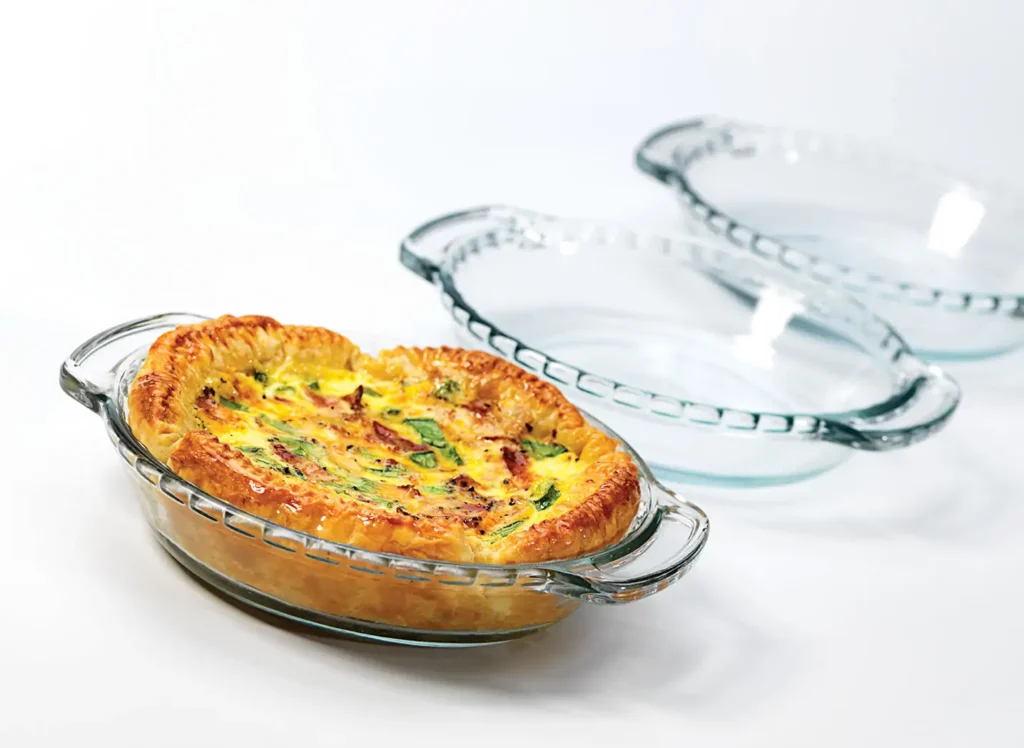 No matter what your needs are, Anchor Hocking has a pie dish that is perfect for you and your kitchen.