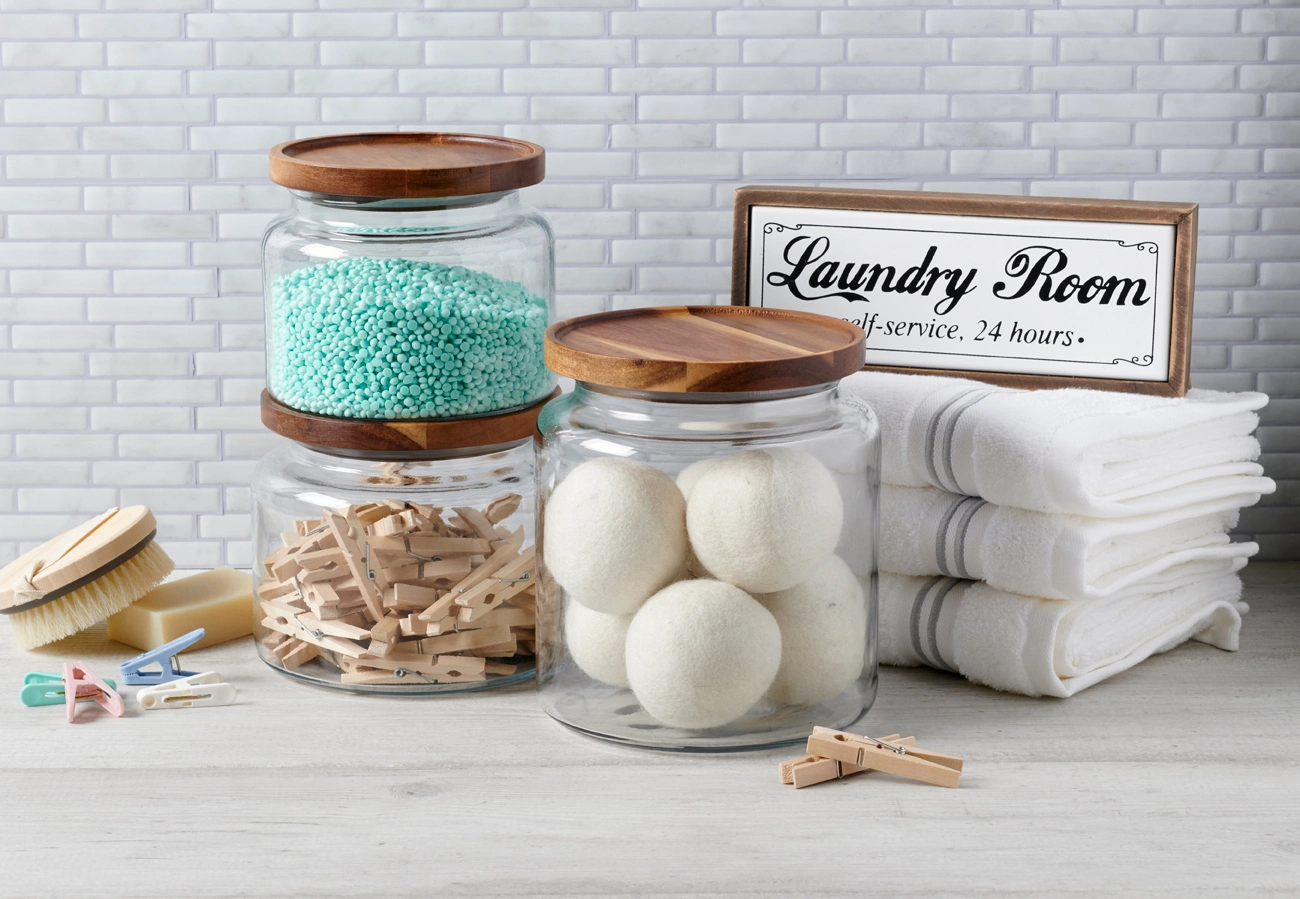 Spring is the perfect time for a home organization overhaul and Anchor Hocking glass jars offer an aesthetic, and often overlooked, way to declutter your home. Below we've compiled a list and brief explanations for the jars best suited for each room in your house.
The laundry room can quickly become cluttered and messy with cleaning supplies, detergents, and household knickknacks. Anchor Hocking's Montana® Jars come in sizes ranging from 48-ounces to 2.5 gallons, providing ample storage space for laundry pods, pet treats, and more. Depending on the style of your home, the black metal or acacia wood lids add a beautiful and functional accent to any laundry room.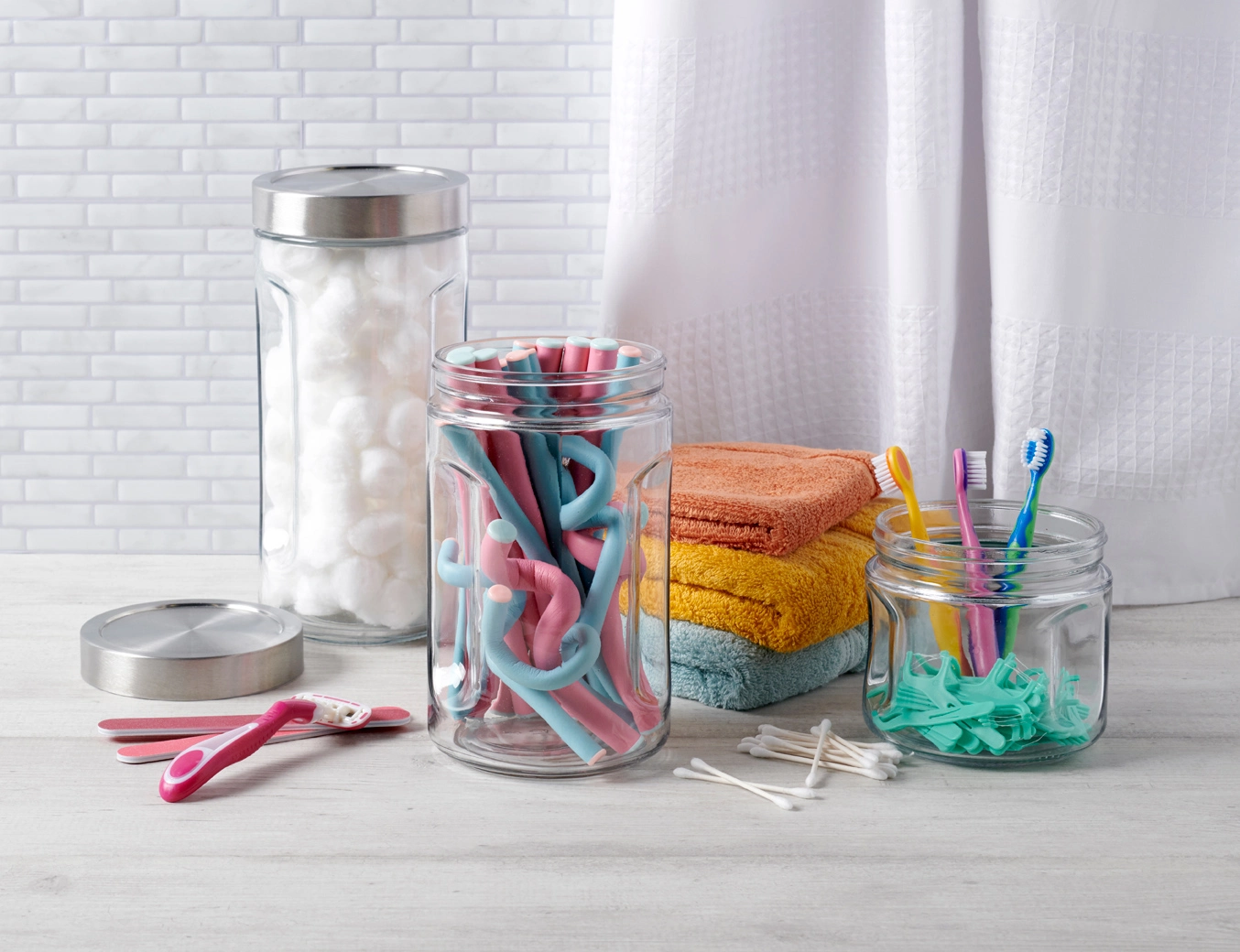 In bathrooms, which are often small and cluttered, it's easy for Q-tips, cotton balls, and other toiletries to pile up across counters and shelves. The SecureLock® Gripper Jars are not only modern and striking, but also come with easy-grip silicone lids that are perfect for damp environments. For a more rustically styled home, the Cracker Jar is a great option to tuck away bath salts, soaps, bombs and other bathroom necessities. If you're worried about things getting especially dirty in the bathroom, fear not. Simply slide these jars into the dishwasher for easy disinfecting.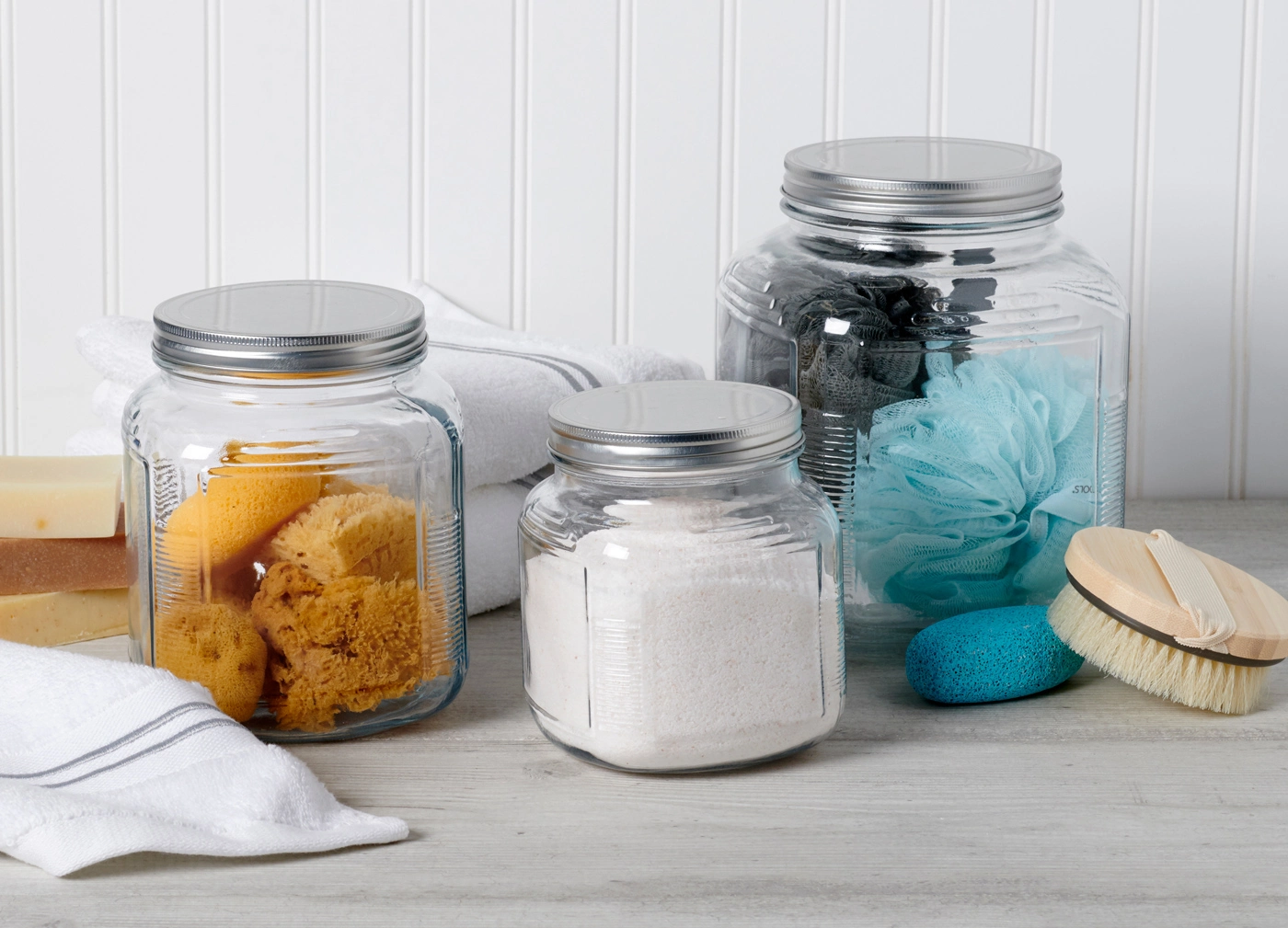 A well-organized pantry can save time and space all year round. Clear glass jars allow you to quickly see what's inside, making it easy to find what you need without having to dig through cluttered shelves. Anchor Hocking's Heritage Hill® Jars are perfect for storing dry goods that usually hide in the pantry like pasta, oats, cereal, baking ingredients, nuts, granola, sugar, or flour.
Anchor Hocking's Goode Sundry Jars are another great option for when you buy dry goods in bulk, ranging in size up to a huge 2-gallon model. Their lids have a simple look but sophisticated gasket technology that latches onto the glass base to maximize moisture retention and preserve foods longer.
In the kitchen, counter space can easily become overcrowded with miscellaneous items. But what about things you reach for often? This is where Anchor Hocking's Stackable Jars or Anchor Hocking Penny Candy Jars come in handy. These jars don't just add a uniform and aesthetic appeal to your kitchen. They also provide a space-saving solution to keep utensils, coffee pods, candy, snacks, or spices organized and within reach while using minimal counter space.
In conclusion, Anchor Hocking glass jars are the perfect, stylish solution to your home's organizational stresses this spring seasons. Whether you're looking to organize your laundry room, bathroom, pantry, or kitchen counters, check out our catalog/pantry section of our website to find the perfect jar for your need.