WHEN YOU NEED A BAKING DISH WITH A LID FOR STORAGE
This baking dish with a lid that clasp tightly on to the glass for leak-proof storage means more visibility and fewer dishes. Anchor Hocking's versatile TrueLock glass bakeware goes from freezer to oven to table to fridge or freezer.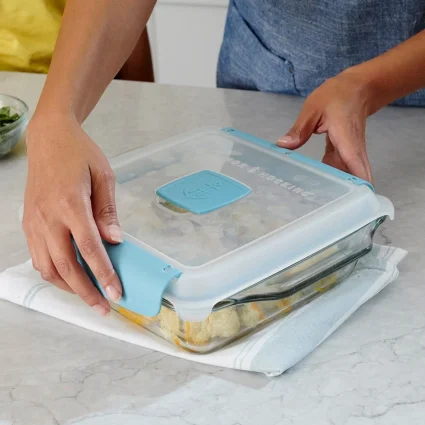 Lids lock onto glass baking dishes
TRUELOCK BAKING DISH WITH LID PRODUCT DETAILS
From small 2 cup options perfect for food prep to large sizes like 7 cup casserole dish with locking lid, this sturdy American-made bakeware is oven, microwave, dishwasher, refrigerator and freezer safe. It comes in multiple sizes and shapes. Available in 2 cup rectangle, 3.75 cup rectangle, 6 cup rectangle, 2 cup round, 4 cup round, and 7 cup round sizes.